What if I told you that you could support adoption individually, in general, domestically, and abroad,
and
get cool handmade stuff?
Well you can! A lot of people and organizations make really cool stuff and sell it, with all or most of the profits going towards adoption.
Today I just learned of a new one:
remnant
is a husband and wife team in North Carolina that makes cool bags. They're also adopting a child, and making handmade leather bracelets to help fund their adoption. You can see the bracelets at the website. The project is called "KIN," representing an investment in family: not just in theirs, but in the idea of bringing families to orphans.
Plus they look awesome! Carling and I are getting these for each other for Christmas.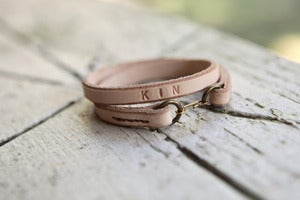 Here are some other cool websites where the profits benefit adoption:
147
Amazima Ministries
The Sparrow Fund
Just Love Coffee
- for this, families can set up storefronts where parts of proceeds from coffee sales goes towards their adoptions.
Christmas is just around the corner, and it isn't a bad idea to get a head start on your gifts. I hope you will consider shopping at these and other stores like them, where you can get great stuff, all while making a difference in the lives of orphans.
Thanks for reading!
Conor, Carling, and Ciahna